Welcome to
Pittie Me Rescue!


How did we get here?

In April 2011, the Hardenburg family began fostering Lexus, a troubled mamma pit bull and her six puppies. One of those puppies, Tiffany, wiggled her way into the hearts of the family, making them foster failures and forever linked to the rescue mission, and specifically the plight of the pit bull. Unbeknownst to them, the seed for Pittie Me Rescue (PMR) was planted. In early 2013, following several sleepless nights and one very insightful morning shower, a name, website and logo were born and a dream finally came to fruition.

Shortly thereafter a close-knit system of foster homes was weaved and the legacy of PMR was born. What started out as love at first sight, has blossomed into a truly remarkable network of willing, dedicated and passionate volunteers and advocates for the pit bull breed and rescue animals in general.

The Mission of Pittie Me Rescue:

Pittie Me Rescue is a non-profit, volunteer based dog rescue, dedicated to saving the lives of homeless animals in our community. We primarily rescue dogs from our local county shelters, local streets, and neglectful situations.

*****UPCOMING EVENTS*******


Pet Planet -February 20th - 11-2pm
4025 E Chandler Blvd, Chandler AZ 85048
(Chandler Blvd/40th St) Stop by Pet Planet and meet a few of Pittie Me Rescue's adoptable dogs.

Painting with a Purpose - Fundraiser
Feb 27th - 3-5pm - Tempe Az
Join Pittie Me Rescue for a twisted good time. $35 per painter - includes painting supplies and artist instruction. 50% of the fee will be donated back to Pittie Me Rescue. Bring your favorite wine or beer to enjoy will painting!
TO REGISTER: https://www.paintingwithatwist.com/events/viewevent.aspx?eventID=549072



**PMR DONATION WISH LIST**
(donations can be dropped off at any event or mailed to Pittie Me Rescue - 2487 S Gilbert Road # 106-175, Gilbert AZ 85295)

- Quick snap martingale collars (all sizes)
- Large outdoor black garbage bags
- Kongs - (medium & large)
- Nyla bones (medium & large)
- XXL Heavy duty outdoor tarps
- Grain free Costco kibble (beef-yellow bag)
- Monetary donations
- Spay/neuter sponsorship donation

Shop from Pittie Me Rescue's Amazon Wish List

http://www.amazon.com/gp/registry/search/ref=nav_wishlist_find - Type in Pittie Me Rescue to shop from our WISH LIST!


FUNDRAISING:
Shop
Animal Hearted Apparel
and help Pittie Me Rescue raise funds for the dogs in our care.
Enter COUPON CODE PITTIEMERESCUE at the time of checkout to recieve a 10% discount on your purchase.
25% of your purchase (before shipping and taxes) will be donated to Pittie Me Rescue. It's a WIN WIN for everyone!
SHOP NOW!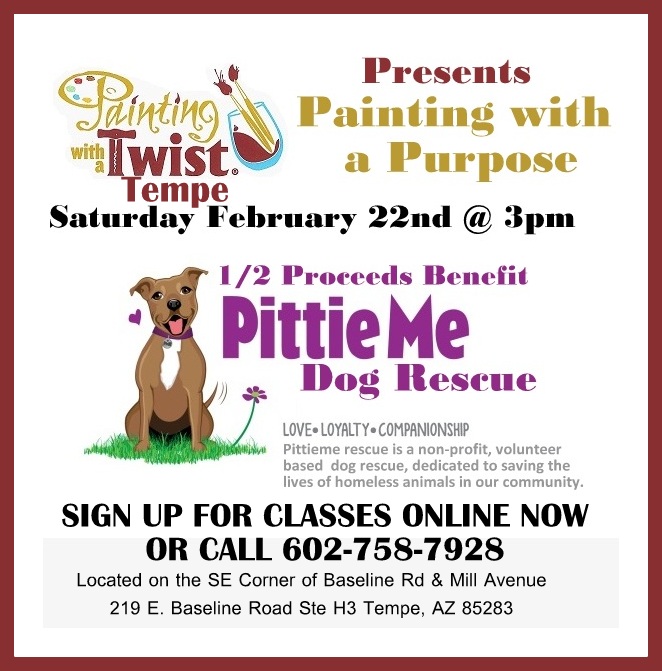 Please take a moment to visit "Our Supporters" page!